Napl TAC60i High-accuracy three-phase power controller for voltage regulation/power regulation
Napl TAC60i High-accuracy series Three-phase power controller integrating voltage regulation and power regulation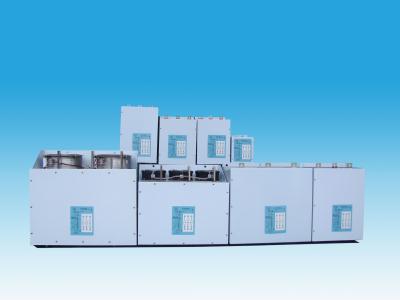 Maximum current perphase 1500A
■New product developed by applying imported high-power solid-state relay (SSR) technology.
■Integration of three-phase voltage regulation and power regulation, selectable power regulation mode: cycle or duty-cycle (PWM).
■Microprocessor digitization design, phase-locked loop synchronous circuit, 3VAC low-voltage start-up, slow start-up after powerup, slow turn-off, heatsink over-temperature alarm, current limit, over-current protection, manual/automatic switching balanceless, etc.
■Six-channel independent firing function, DC broad-pulse active firing technology, photoelectric isolation between input and output, isolation between each firing pulse in six channels, safe, reliable and stable firing mode.
■Current capacity:50A 80A 100A 150A 200A 260A 300A 400A 500A 600A
800A 1500A etc (click on the current to see photographs).
■Applicable to resistive load and inductive load, capable of effectively controlling loads such as SiC stick, Si-Mo stick, electric heating tube, nichrome wire, transformer, etc.
■1~120s slow start-up after powerup applicable to inductive load with high initial firing current pulse, Si-Mo stick, etc., which has an obvious effect.
■Widely applied in industries of casting, forging, heat treatment and industrial furnace, vacuum furnace, various conventional heat treatment furnaces and atmosphere furnaces, high-, intermediate-, and low-frequency induction heating equipment, electro-thermic working, material manufacture, aerospace, metallurgy, nonferrous metal, medical electronics, fireproofing, ceramics, iron, glass, cement and stoving equipments, as well as vacuum coating machine, etc.
Selection Form
项目

型号代码

规 格

高精度

三相电力

调整器

TAC60i

基本功能:移相调压, 锁相环同步,宽脉冲触发,

调节分辨率:0.2°(调压),20ms(调功)

缓启动时间:0.2~120秒可调 缓停时间:10秒

报警输出:常开1A 250V AC 基本报警:散热器超温,电源缺相

常闭1A 250V AC 过流报警

电源电压:380V AC±10% 50HZ 环境温湿度:0~40℃,90%RH最大

控制输入

4-

4~20 mA DC, 接收电阻: 100Ω

6-

0~10 V DC, 输入电阻: 450KΩ

三相负载连接形式

Y0-

Y0:星型中心点接零

TR-

Δ:三角型;或Y:星型中心点不接零

电流容量

(一般纯阻负载,阻值恒定)

外形尺寸mm

50-

50A AC 227长×158宽×185厚

80-

80A AC 227长×158宽×185厚

100-

100A AC 360长×230宽×220厚

150-

150A AC 360长×230宽×220厚

200-

200A AC 360长×230宽×220厚

260-

260A AC 350长×255宽×236厚

300-

300A AC 425长×254宽×250厚

400-

400A AC 475长×325宽×260厚

500-

500A AC 475长×325宽×260厚

600-

600A AC 475长×485宽×260厚

800-

800A AC 458长×500宽×324厚

1500-

1500A AC 540长×584宽×339厚

过流报警

C

过流报警和限流功能(选配)

N

无

限流电位器

N

内置P4电位器调整

L

外接10KΩ电位器调整

调功

00

调压

01

调压 + 阻性调功

02

调压 + 感性调功

快速熔断器

0

无

1

有

负载特性

R

阻性负载

L

感性负载
Order Example:TAC60i4-TR-300-CN001R, namely, TAC60i high-accuracy three-phase power controller, 4~20mA input, load connected in star without neutral or delta, provided with over-current alarm and current limit (by internal potentiometer), and quick fuse option, applicable to heater with common pure resistance load.